Begins Monday, September 27th!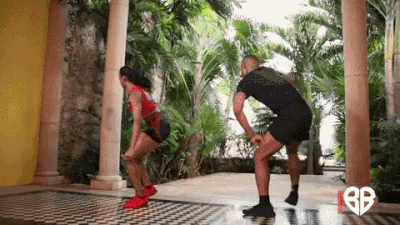 Whether you are a true beginner or a workout enthusiast, the Bangin' Body Basics 28 Day Challenge is the perfect place to start. It'll give you the moves and accountability you need to get results in the first month. There is both a beginner version and an intermediate/advanced version, so that you can be properly introduced to Bangin' Body, regardless of your fitness level.
Once you have completed the Beginner Bangin' Body Basics 28 Day Challenge, you can go right into the Intermediate/Advanced Bangin' Body Basics 28 Day Challenge. The Intermediate/Advanced 28 Day Challenge builds on the beginner 28 Day Challenge routines, muscle sculpting techniques and conditioning work. No need to worry - you'll be ready, boo!
The calendars and challenges are here to support you—however, as always, listen to your body and what it needs. My recommendation is that you commit to 4-6 days a week to Bangin' Body Online—whether its a 5 minute Bangin' Body Beats twerk video, a 45-60 minute Bangin' Body Bands class, or even if you use the Build-Your-Own-Bangin' Body (BYOBB) feature! It is the consistency that is going to make all the difference in the world! And with consistency, I guarantee you're going to see and feel the difference!
So let's get stronger, healthier, more confident & even more badass together!